For Hairstylists

All Levels
Learn to Earn
. How to become a 5 figure+ / month hairstylist.
Make
more
$$$, work
less
hours.
This is the simplest system you'll ever learn that will show you how to earn
$10K+ / month
while working the schedule you want!
Yes, we're talking:
💰 How to Charge
💰 Keeping Your Books Full
💰 Keeping Your Clients Happy (So They Come BACK!)
💰 and much, MUCH more.
Hey Hairstylists!
Are you struggling to make enough money and to find the time to do what you want?
We know exactly how you feel... a
s hairstylists, we were once totally broke and burnt out trying to make ends meet. It was exhausting and at the end of the day we started to question whether we should keep doing hair..
(don't get me wrong, we LOVED doing hair).


We just noticed that there was a lot of things that hair school didn't teach us. Here were the hard truths, hairstylists often...
❌ struggle to bring in a big income
❌ lack free time to spend with friends and family
❌ have a hard time building their clientele

There had to be a better way!
We knew there were stylists out there doing it. The idea was simple: work less, make more money.

But how🤔? We knew it meant learning new skills above and beyond 'cutting & coloring hair'...

We figured it out and we want to break it down for you step by step 👇
4 Out of 5 Hairstylists Quit in Their First 5 Years...
... often because they can't make enough money.
What's Included...
Module 1:

Being a Hairstylist = Financial Freedom

Module 2: Lifestyle Design

Module 3: The Power Of Goal Setting

Module 4: Self-Care and Balance Create Happiness

Module 5: Look like the BOSS, Act like the BOSS, Be the BOSS

Module 6: Knowing Your Numbers = Money 💲💲💲

Module 7: How to Make More Money While Working Less Hours

Module 8: You Are in the Business of RELATIONSHIPS

Module 9: Creating the Unforgettable Customer Experience

Bonus Module: Retail Mastery

Bonus Module: Profits and Pay Checks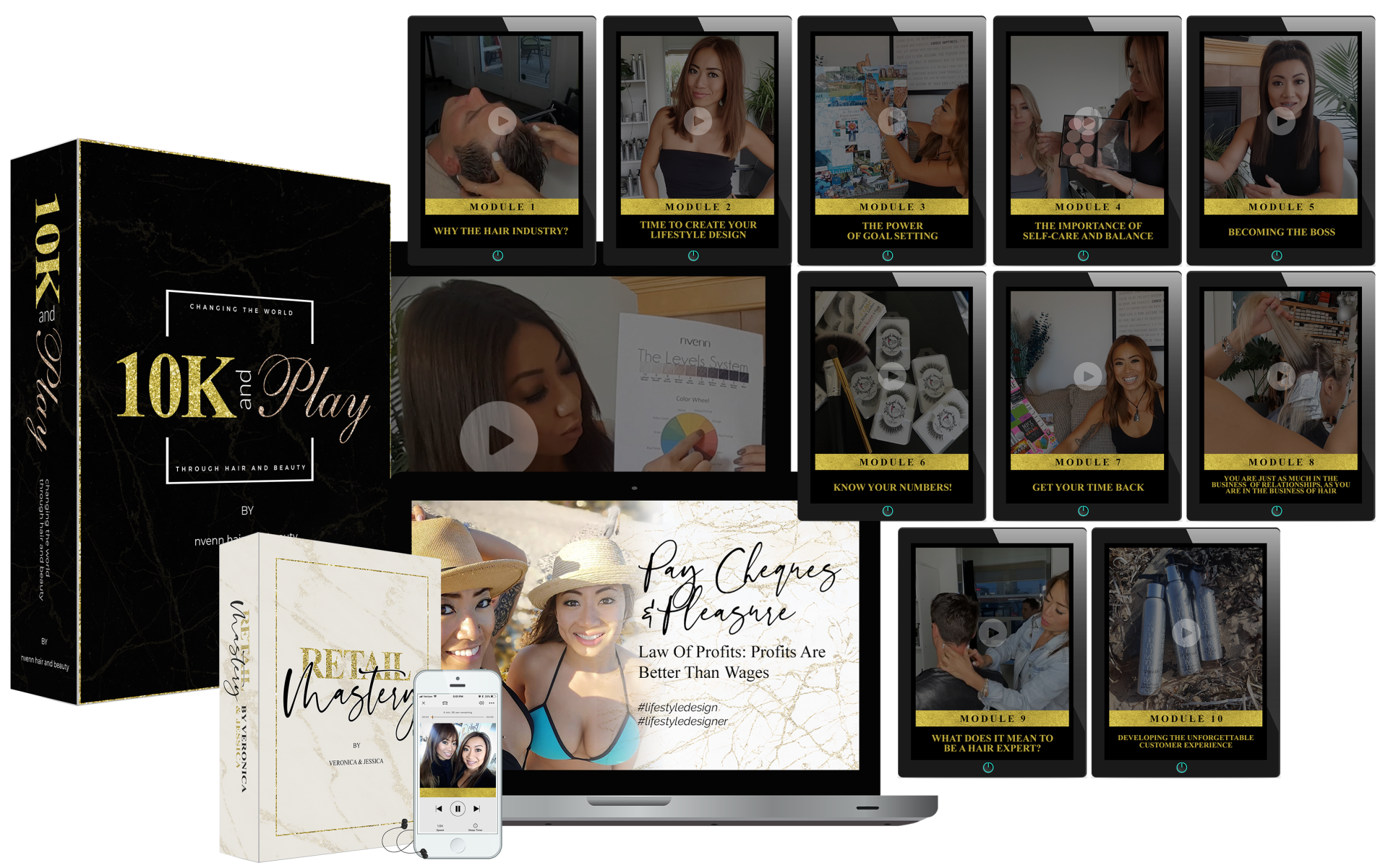 Join Us
You'll learn the key ingredients to take you to $10K+ / month.
We've helped hundreds of hairdressers to develop skills that make them more $$$. The results speak for themselves.
⭐⭐⭐⭐⭐


Let's do this, enroll now 👇
Invest in yourself. Your future self will thank you.
10K and PLAY
"May your choices reflect your hopes, not your fears." – Nelson Mandela
Created with